TOWN HALL MEETINGS:
We are planning on having two (2) Town Hall Meetings on the Ranch this season. As of right now we are planning on the third Saturday in June and the last Saturday in August (weather permitting). Please come out and meet your Board of Trustee and your fellow Ranch members. This would be the perfect time for you to let us know how we are doing (good or bad).
If you use a cable, rope or chain to close off your lot when you are not using it please mark it with tape or flags set at 2-3 ft spacing to prevent an unsafe hazard.
There seems to be a lack of approval to develop lots lately. This is vital part of Sourdough Ranch in order to keep our green belt status. We cannot be lax in this effort. Please do not fail to get Board approval for any developments or improvements to your lots. Please do not move your boundary lines the Board Members have placed for you. We need to stay in compliance.
Due to abuse of the system ATV stickers must be paid for at the office only. Only prepaid stickers can be picked at the cabin, no exceptions.
Watch out for vandalism on the Ranch. Anyone caught vandalizing will be prosecuted to the fullest exstent of the law.There is a reward up to $2500 for information leading to the arrest and conviction of anyone caught vandalizing the Ranch.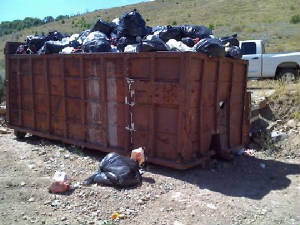 Please do not put any scrap or junk metal in the dumpster, garbage only. Please, if the dumpster is full take your garbage home. All garbage must be bagged, as you can see by these photos it is not and causes a mess for the entire Ranch to look at. Please help us keep the Ranch looking nice and remember the dumpster is a privilege.